This week we had the pleasure of visiting Rome with some great ladies of the travel blogging world. As usual Dave was the only man in the mix of many women (not that he was complaining) so when we took a stroll to the Trevi Fountain at midnight, he just had to snap a photo of his entourage.
After an incredible guided 7 course dinner at Armando al Pantheon led by Gina of Context Travel, we were in desperate need of some exercise. So what does one do at midnight in Rome? We go to the Trevi Fountain of course. It's the only time you'll see this iconic landmark free of crowds tossing coins in to assure their return to the ancient city. At night, there are few people around and you witness the true beauty as to why this fountain became so popular in the first place.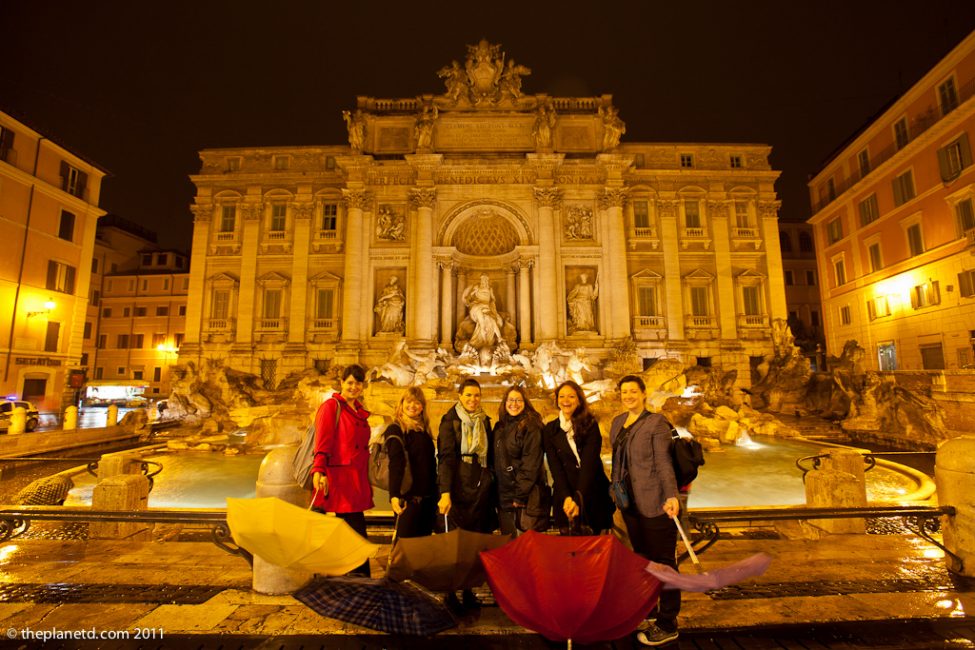 Feeling like a movie star, we all dipped our umbrellas down to our feet, smiled for the camera and made a wish. It was like a dream to spend 6 entire days in Rome and 3 with these wonderful ladies on our incredible Apartment in Rome Adventure with HouseTrip
Follow these other websites for more on our HouseTrip shenanigan's and Rome! left to right: Monkeys and Mountains, Aviators and a Camera, Traveller's Playground, Angie Away, Destination Europe.