We had such an amazing turn out for our inspirational travel series that we couldn't wait any longer to share everyone's stories. People have been waiting patiently for their submissions since well before Christmas and rather than spread everyone's stories out over the next few months, we decided to have a week of inspiration. There's no better way to beat the February Blues than to read inspirational stories, Enjoy! 
Real Men Don't Cry by Tony James Slater
I was climbing a tree. By itself this was fine – I like climbing trees. If only I hadn't mentioned this fact to the boss of the animal refuge where I was volunteering… I never would have ended up in this situation.
I was climbing a tree with a bear in it. She grinned down at me from the uppermost branches, looking remarkably cuddly and unthreatening at this distance.
Only she weighed more than I did, had four legs and a mouth full of sharp things, and if she decided to come down she was going to have to do it through me.
Clinging to the smooth bole of the tree with my whole body, shaking just with the effort of holding on, I don't think I would have offered much resistance.
It was about the hundredth time I had the thought; 'What the HELL was I doing in Ecuador?"
I'd only been there a week.
Volunteering at Santa Martha Animal Rescue Centre had seemed like the perfect way to reinvent myself – until about ten minutes after I got there.
That was around the time I made my first recapture of an escaping animal – a small, snuffly, raccoon-like animal called a coatamundi. I caught the thing easily enough, because it had chosen to escape in the general direction of my feet; he clearly wasn't the smartest of critters. Cute as hell though, with bright red fur and a ridiculously bendy nose, but about as bright as a beanbag.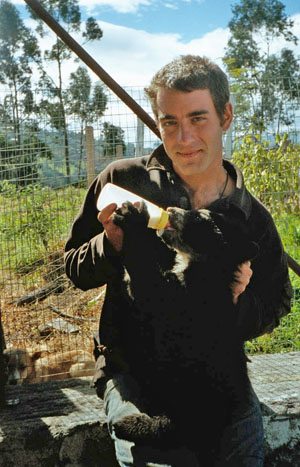 Apparently he escaped every day at some point – but he never made it very far because he was blind.
There were bears here, big cats, monkeys, parrots, and some things I had never seen before and doubted I'd ever see again. (I swear they had at least one live Pikachu). If anything bigger than a bunny rabbit escaped… well, what the hell would I do about it?
The answer: climb a tree.
That's where the bear had gone, after somehow liberating herself from her high-security enclosure, so that's where we were now; my boss, standing at the bottom, shouting at me to climb higher; the other volunteers, watching from a safe distance with a mix of dread and curiosity. Somehow we had to get that bear out of that tree – and quickly, before the boss's men took matters into their own hands.
These Ecuadorians were Real Men. They didn't do touchy-feely. When I'd suggested sitting at the bottom of the tree with a bowl of fruit, they'd look at me and laughed. And sent for axes.
One way or another this tree would be bear-free by mid morning, and I wanted to be the one to do it. I had my reasons; for starters, I loved that bear. I'd sneakily fed her my jam sandwiches only a few days ago, while we were in her enclosure doing some cleaning. Also, there was the pride thing. By this time I'd worked at the refuge for over a month. Things that had appeared impossible when I first arrived – like cutting down a tree with a rusty machete the size of a bread-knife – were now easy.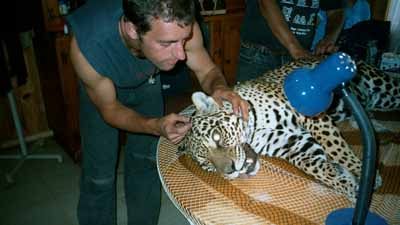 My day started with feeding almost a hundred animals, plugging the narrow door to freedom with my vulnerable body whilst ladling out their gooey, fruity breakfast – yet none escaped. Not any more. At least, not during feeding. The point is, I was getting good. I was sure of it – and I could tell the Ecuadorians thought so too. I was slowly building a reputation for being strong, for being useful, and for being fearless… Or possibly stupid, depending on who you asked – but it amounted to the same thing. If I could get that bear out of the tree, all by myself…
It never happened.
After many clever strategies had been tried, we resorted to tying a rope to the tree (which was rather skinny) and pulling on it until the tree bent down to the ground. This was even more difficult than it sounds – seven grown men throwing all their weight into it, sweating, straining, cursing…
But we nearly had her!
Then she ran down, out of the tree, across the ground for a short distance – and up the next tree over.
It was days like this, when I laughed so hard I almost cried, that really made my volunteer experience. By the time I was done I'd been bitten, clawed, shot at and shaved, electrocuted, temporarily blinded, and had spent more time chasing monkeys than most people would consider healthy.
You know what though? I survived. And it was without a doubt the craziest, most incredible, most transformational experience of my life.
Not only had I become close to so many amazing animals, I'd also helped rescue them from cruelty. Taken chains from around their necks, nursed them back to health, and then – when the refuge was full almost to bursting – had driven with them clear across the country, to release them all into the Amazon Jungle.
Words can hardly do justice to the mix of emotions roiling through me on that day.
Elation.
Sorrow – it was like saying goodbye to a load of really good friends.
Awe – at the splendor and the majesty of the rainforest and it's rivers.
And pride – because after all I'd been through, all I'd achieved, the boss had one bit of praise for me; 'Now you're a man,' he said.
Coming from him that really meant something.
It was all I could do to keep from crying.
But of course, Real Men Don't Cry…
Tony James Slater is the author of 'That Bear Ate My Pants!' – a comedy travel book chronicling his misadventures whilst volunteering at an exotic animal refuge in Ecuador. He now splits his time between doing ridiculous things all over the world – often involving animals – and writing about them. He gets hurt quite a lot.
That Bear Ate My Pants! Is available from:
Amazon.com (US): http://amzn.to/thatbearatemypantsus
Amazon.co.uk (UK): http://amzn.to/thatbear
You can get in touch with Tony via his website at Adventure Without End
Or on Facebook: Tony James Slater
Or Twitter: @TonyJamesSlater
Inspirational Series 

This is an ongoing series of Inspirational travel. If you have an experience in travel that changed your life, made you look at the world differently or an amazing moment that you want to share, please contact us for more details and we will email you right back.. You can also read more about submitting an article to this series at Calling All Writers, Share your Inspirational Travel Story

Read More Inspirational Stories