–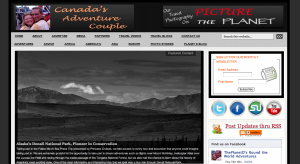 It is that time again. Every so often we like to give our readers an update on what we have been up to behind the scenes of theplanetd.
This summer has been light on travel but very heavy on travel blogging and business.
It was a little over a month ago that we started our changes with the blog and wrote about what we did in the post The Business of Travel Blogging, Week 1 Change we definitely made a lot of tweaks to change the look of the blog by widening it, changing the colours and cleaning up our side bar.
–
So have the changes made any difference?
We have certainly noticed a lot of things happening over this past month.
Since changing our RSS Subscriber feed to full feed, we have noticed our subscribers increasing steadily.  We are going to be adding a Subscribe to updates by email under our RSS Subscribe icon because many people don't know what RSS is, but everyone understands subscribe to email updates.
We have been working on retagging photos thanks to Gary Arndt's talk at The Travel Blog Exchange. He explained the importance of tagging, and after working diligently for the past month we have noticed a large increase in daily views. We haven't even scratched the surface of cleaning up our SEO (search engine optimization) But what work we have done so far is making a difference, so we are going to continue.
We were inspired by Globetrooper and the success that they have had on facebook.  After chatting with them in Montreal, we decided to work on building our facebook fanpage.  We held a travel song contest and gave away a $25 iTunes gift certificate.  To enter the contest, we had everyone give our facebook fanpage a like and leave a comment stating what their favourite travel song was.  It worked very well in a little over a week, we gained over 100 fans.  We now have some interaction and discussion on our fan page and we are enjoying the commaraderie and support on the social networking site.
Dave has been working on his Photography Site Picture the Planet. It has been a gigantic task moving his photos over to SmugMug, (Another piece of advice by Gary) but he is slowly getting all his travel photos into their galleries.  Once he has everything organized, he is going to start posting photography tips and advice pieces.  For now he has been posting a photo of the day just to get some content going and it has gone over very well.
We have started editing our vides and will be posting travel videos more often in the coming weeks.  We found that we have been neglecting the video aspect of the blog and we feel that our readers will get more of a feel of our personalities if they can see us on camera every so often.  This has been a challenge as there is so much to do on the technical side of blogging that we don't really have the time for editing, but we are making the sacrifice to add another layer to theplanetd.   Besides, we have months of footage to capitalize on and it is time to have some fun and play around with our footage.
We have created a new logo and will be putting that up soon replacing our avatar in the top left corner of the page.
Headings and Links
We have been working on keeping people on our site for longer and creating more page views as well.  The best piece of advice that we got from Globetrooper was that our links were the same colour as our headings.  Now we have changed our text links to related blog posts to the colour green and we have underlined them. Our Headings are red  We are also making sure to do more internal linking to our own site.  We have neglected this in the past, but we are slowly working on building those links. It is working…we are seeing our bounce rate go down and people are spending more time on the site.
We took off most of our award badges to speed up the site a bit.  We love to have the "brag badges" but we prefer to have a fast website instead.
We also took off all the the blog ranking widgets.  These things….
–We aren't sure if this is a good thing or not.  We aren't even sure why we joined all of these things in the first place.  I know that we submitted our blog about a year ago, downloaded the badge widget to put on the site and then watched the rankings change daily at the bottom.  Since taking them off the home page we have dropped like a stone on all of them. Does anyone know if this is useful to blogs?  Does it matter if we are indexed with them or not? We ended up moving them to the bottom of our travel blogs page. That way we are still linking to them and hopefully they are still indexing our site. But we are not sure.
And we areen't even sure if the link from them is useful or not. Any advice would be greatly appreciated!
So there you have it, we are plugging away for hours every day at the moment while we are at home. We want our site to be in tip top shape before we set out on the road again. There is still a lot to do. We have tagging and optimizing, editing hours of video, retooling the look of the blog, and a thousand other little things to fix in the next 2 months, but we are slowly making progress and seeing results.  We will keep you posted on how it goes.