The Pyrenees inspired us. As we rode our horses through an old pilgrimage route, we had visions of walking the El Camino de Santiago. Each time we walked through the mountains of Northern Spain, all I wanted to do was stay there. We made mental notes to come back in a year or two to truly explore the land and take our time to walk through the country slowly. We want to meet the people of Spain, get to know the language and understand the culture. We want to slow down and enjoy the four hour lunches and late night dinners without having to worry about the work piling up and we want to find ourselves again, be alone with our thoughts while taking on the challenging cross country route.
I can understand why the Camino de Santiago is so popular. Not only for pilgrims but for travellers seeking adventure. There is something inviting and calming about walking through Spain. The mountainous scenery of the Pyrenees is captivating. Centuries old trails carve through the hills and one can only imagine how many people have walked this very same route. What were their reasons for doing so and did they find what they were looking for?
The Pyrenees in Black and White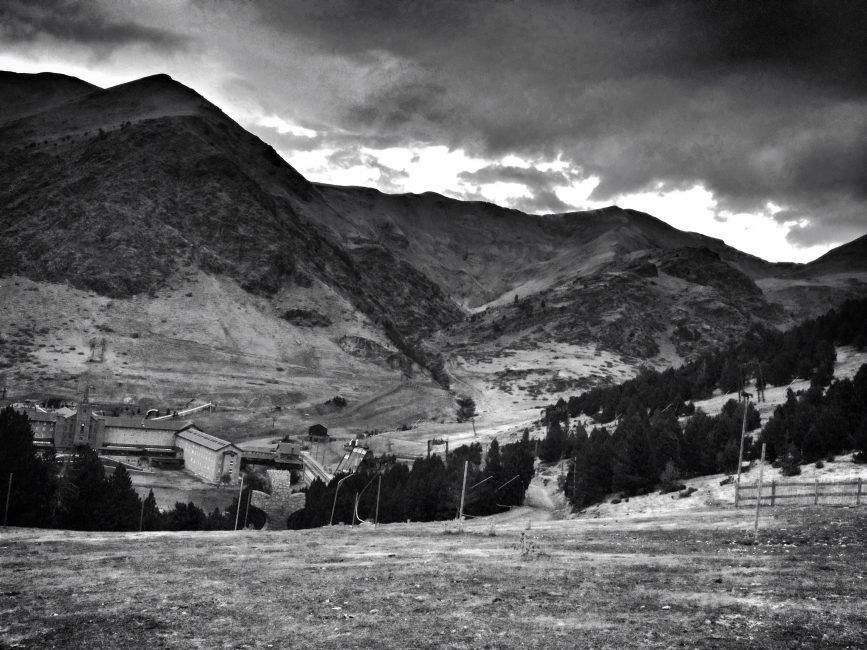 During our trip through the Pyrenees with the Costa Brava tourism board, we took nearly every mode of transportation we could think of. We explored on donkeys, segways, ebikes, classic railway, buses and of course on foot. A trip to the pyrenees wouldn't be complete without a hike and we had the opportunity to hike from this lodge Vall de Nuria to a nearby town 7.5 km down the mountain.
Vall de Nuria is a popular destination for hikers and nature lovers. Located on a ski hill it is a year round destination where visitors can hike, bike, canoe, try your hand at archery or go on a trail ride like we did. Our ride took us to the top of the ski lift where we looked over the valley cutting through the Pyrenees and we said to ourselves, "Life is good, right here and right now."