We're in Switzerland baby!
We are very excited to be in Lucerne, Switzerland taking part in the Adventure Travel World Summit. And better yet, we're covering the event and everything Swiss for Expedia.com. You can follow the adventure live on Twitter with our hashtag #ExpediaatATWS and #2012ATTA, on Facebook at ThePlanetD and of course follow our photography on Instagram. We've already been sharing amazing photos from Switzerland there and will keep them coming all week long.
The 2012 ATWS Line Up
The Adventure Travel World Summit (ATWS) proves to be one of the most inspiring events we've ever been to. With keynote speakers being Taleb Rifai, Secretary General of the UNTWO (World Tourism Organization), Alexandra Cousteau, grand daughter of Jaques Cousteau, Rob Torres, Managing director of Google Travel, Jim Leape, the Director General of WWF International and Darrell Wade of Peak Adventures and founder of our favourite adventure travel company, Intrepid Travel, we are sure to come away with a head full of new ideas about how adventure travel plays a part in tourism and conservation.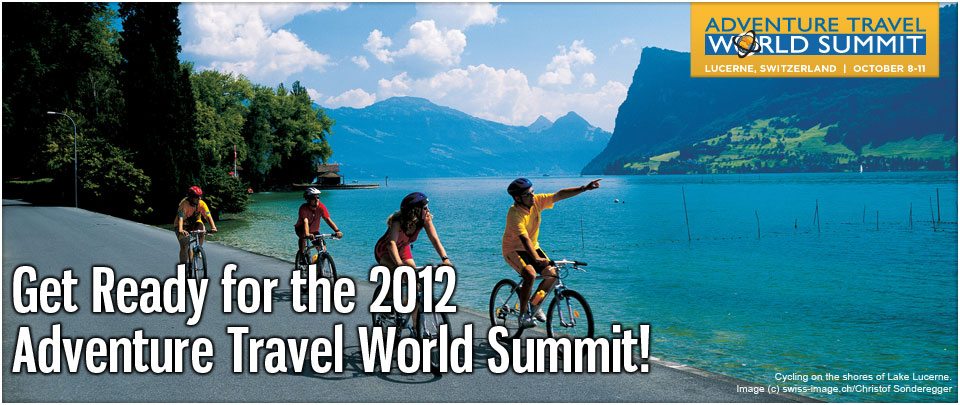 Our very own Dave Bouskill is also speaking at the event on a panel with the esteemed Ellen Barone of Ellenbarone.com and Marybeth Bond of the GutsyTraveler.com. They'll be talking to the industry about how to leverage bloggers for better branding with Casey Hanisko at the helm moderating this trio. I'll be cheering on from the audience and taking video to share with all. I can't wait to hear from Ellen and Marybeth to hear how they have taken their busines to the top of the heap.
Check out the Summit Agenda for Dave's bio and the entire schedule. (Yes, I'm very proud of him)
ATWS in Lucern

e
It's then a week filled with mixing and a mingling with tourism boards and adventure companies from all around the world. Stay tuned for interviews, videos, photos and posts about the entire event and our adventures in Switzerland. This is one beautiful country and we can't wait to show it off to everyone.
We've already had an amazing pre-summit week where we made new friends and experienced some very fun  adventures as we travelled through the Swiss Alps. The Alps are as beautiful as we imagined and the Swiss precision is exactly what you would expect. Orderly and on time to the second. Only the Swiss can use phrases like "We'll be there in twelve and a half minutes. Now that is exact!  We're thinking that we should buy a Swiss watch before we leave to help get us back on track. It's been a very busy five weeks and we've fallen behind on our work and emails but maybe Switzerland is exactly what we need to get us moving and back on schedule.
Make sure to follow all our social media channels for sound bites and photographs. It's a huge honour for us to be able to meet so many people that are pioneers and leaders in the adventure travel business. We can't wait to talk to them all and listen to what they have to say.
Twitter #ExpediaatATWS and #2012ATTA, on Facebook at ThePlanetD and photographs on Instagram.