-
If there is one thing I love when I am at the beach catching some rays, it is reading a good book about an exotic location. So when Peter Rudiak-Gould contacted me to see if I would be interested in receiving a copy of his book Surviving Paradise, One Year on a Disappearing Island,I jumped on the chance to review it.
It arrived just in time for our adventure to Asia and wow, what a surprise it was to be granted such an excellent read.
I am a traveler, but I will admit, there are very few travel novelists that I love reading.  I find that I lose interest part way through the book because the author doesn't have a lot to say.  They have lengthened a good magazine article into one very long and boring read.
This was not the case with Surviving Paradise, One Year on a Disappearing Island.
-I thoroughly enjoyed this book from cover to cover.
Surviving Paradise takes place in the Marshall Islands, our author has just arrived at the small atoll called Ujae.  A small island middle of the Pacific Ocean where he will spend the next year teaching English to the children.  Ujae is remote, it's closest neighbours being the Philippines at 2500 miles to the west and Hawaii 2000 miles to the east.
Arriving with big dreams and preconceived notions of the exotic and unknown, his bubble is quickly shattered upon arrival.
He goes on to tell us about the complexities of dealing with isolation, culture shock, boredom and frustrations with great humor and wit.  The Marshall Islands are nothing that one would expect and this raw account of his time there is honest, insightful and laugh out loud funny.
It takes great talent to talk about culture, politics and history while keeping the reader amused and immersed in the book.
As you follow along, you can feel every emotion that he faced on Ujae.  From his love for the Islands to the frustrations that he faced each day, Peter takes you on a roller coaster ride where you yourself feel the need to visit the Marshall Islands one minute and then the next you wonder what you were thinking.
The Oddities of Island Life
I loved the intimate observations that only a person that has integrated into that society can convey.  From the islanders odd habit of keeping him out of the loop, but then welcoming him with open arms when he does show up to an island wide festivity that that they had "failed" to tell him about, to the unruly students that may or may not show up to class.  There is the strange behavior of practicing their church dances in the middle of the night and the fact that if you ever compliment someone on an item or article of clothing, they will be obliged to give it to you whether they want to or not.
This little piece of information caused our author one of his most peculiar and frightening moments out there in the middle of the Pacific and made a believer out of him and myself that demons really do exist.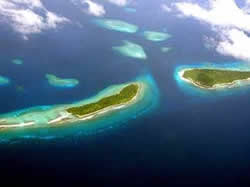 As we read more of Surviving Paradise, Peter adapts beautifully to his surroundings.  A highlight is his time on a fishing trip with the local men and learning to spear fish himself.
I learned so much about life in the Marshall Islands and about the turbulent history that has plagued this nation.  I had never even heard of Ujae and I didn't know that first thing about this tiny island speck of disappearing land surrounded by sea. Now after reading Surviving Paradise, One Year on a Disappearing Island I am intrigued to go there myself.
Peter Rudiak-Gould is currently pursuing a doctorate in anthropology at oxford, focusing on Marshallese understandings of global warming and sea level rise.  In the summer of 2007, he interviewed the President of the Marshall Islands regarding the effects of climate change.  Proficient in Marshallese, the native language of the Marshall Islands, he is the author of the language textbook used by the WorldTeach Volunteer oOganization as its official language manual for the Marshall Islands program.
To Get your Copy of Surviving Paradise, One Year on a Disappearing Island go to Amazon.com
For more information, visit www.peterrg.com