;
Wanna win 7 nights including flights to Caribbean? Find out how you could win simply by creating your own Pinterest board.
Vacation Deprivation by Country
Did you know that the French take 30 days of Vacation time a year? As a matter a fact, most European countries give their employees 25 – 30 days of vacation each year! North Americans get two weeks a year on average, but surprisingly only take 10 out of a possible 14 days off. At least we aren't as bad as the Japanese, their nation's average vacation time is 13 days, but most people only take off 5 of them. What's up with all the workaholics? Why don't people take all their vacation time that they're allowed?
State of Mind
In Europe, people think of their vacation as a duty, it's a part of their work schedule. A break from work isn't a perk, it's a right. Studies show that a healthy balance of life and work make for happier employees. Expedia.com knows this, they even conducted a study to understand vacation deprivation better. Read more of their study here, you'll also find links and great tips to save money on your next vacation.
Win a seven nights stay at the All Inclusive Larimar Hotel, Punta Cana – in Punta Cana including meals, drinks and airfare!
When we visited the Expedia headquarters last year, they talked about how they encourage all their staff to take their maximum vacation time. They know that a relaxed and happy employee generates productivity and they want to encourage the rest of the nation to follow suit and that is why the're holding a contest to give away a seven night stay at the All Inclusive Larimar Hotel, Punta Cana – in Punta Cana including meals, drinks and airfare!
The Planet D is hosting this event and we want one of you to win this amazing vacation package redeemable through September 15, 2014.
Pinterest and ThePlanetD

Pinterest is all the rage right now and we and Expedia know that everyone loves to share their travel photos with the world. So, here's your chance to show off your photos and have the chance to win big! We want to know, If you took all your vacation time, where would you go?
Pinterest is fun and interactive and you have until the end of the month to build a beautiful Pinterest board that fits with the theme, Vacation Deprivation. Think about the question, "If you took all your vacation time, where would you go?" Here's an example to get you started. We decided that if we could do anything that we'd ever want to do for two weeks (the Canadian Average vacation time) We'd revisit some of our favourite cities on earth. Click Here to See our Pinterest Board to give you some inspiration.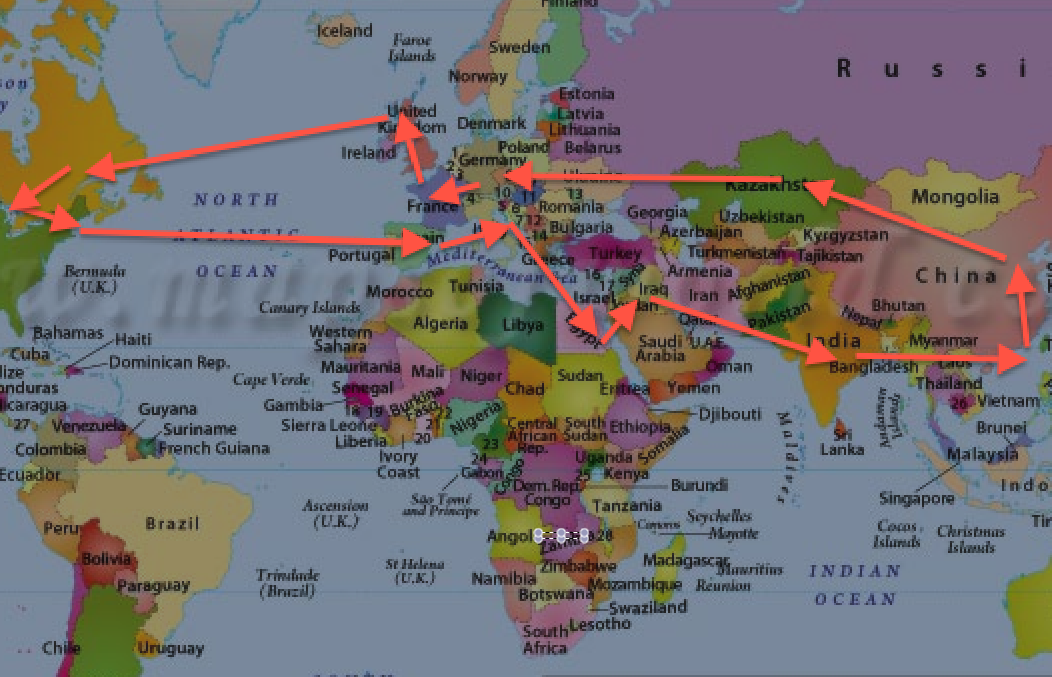 How to Enter
Once you've come up with a theme to your board, you will need to do the following:
Follow ThePlanetD and Expedia on Pinterest.
Create a new Pinterest board called Expedia's Vacation Deprivation.
Pin at least 10 travel photos to your board.
Tag each of the pins with #ExpediaThePlanetD
Share your board on Pinterest, tweet it, share it on facebook and get people to like your pins! The more likes and shares, the better!
Send an email to expedia@hlgrp.com Which includes your name, city, state/province, country and the web url of your Pinterest Board.
Contest Closes November 30, 2012 so let's get pinning now!
Winners will be chosen by the following:
Number of Repins to photos in the Find Yours Pinterest board (25%).
Number of Likes to photos in the Find Yours Pinterest board (25%).
How well the Find Yours Pinterst board reflects your chosen theme (50%)

–
This isn't a random draw, if you work hard and put some thought and energy into your boards and get your friends to help you out, you have a great shot. good luck everyone, let us know where your board is by posting a link below. Everyone stopping by will have a chance to view it and give it a like too.
By the Way: I am happy to announce that Canadians are a nation who takes every single day given to us alongside The English, Danish, French, Norwegian, Singaporean, Spanish and Swedish citizens. We know how to vacation baby! Now we just need more than two lousy weeks!
So let's get the rest of the world taking their full vacation time, it's not something that is a perk, it's needed to keep everyone happy and sane. So, let us know, where would you go?
Please see Terms and Conditions for full contest rules.