We've had a few people ask us what we think the online trends will be for travel bloggers in 2012 and our reply has pretty much been the same all around, It's going to be exciting.
If our recent trip to Seattle is any indication, the future of travel blogging is looking bright.
Just before the holidays, we were invited to meet the Expedia executives at their head office in Seattle to talk about the future of travel and to listen to their big ideas for the future. Expedia Blogger Day is the brainchild of Expedia PR gal Sarah Keeling. Joining her and the rest of the Expedia heavyweights for a delicious mexican feast at Barrio restaurant downtown Seattle, we enjoyed conversations with Expedia VP and General Manager Joe Megibow, VP of Brand Marketing Paul Leonard, Director of Marketing Jeremy Xavier and many more.
One thing we noticed during lunch was that the people who work for Expedia are excited about travel and they are excited about the company they work for. We were impressed to see that they truly wanted to talk to us about what we are all about and what our ideas are about the online business of travel.
Expedia is ready to work with Bloggers and they want to discuss ideas and options with us. They want to connect with their clients in a more personal way and what better way to do that than to work with people like us who are in direct contact with our readers.
Expedia Headquarters
After lunch, we moved onto the Expedia Headquarters where we talked with Expedia President, Scott Durschlag.
Instantly, I knew I liked this guy.
Having the same beliefs that we do about travel, he commented that "Travel is Transformational." I couldn't agree more. When someone experiences a different culture, event or witnesses something spectacular, it can change a life. It can give you a different outlook on how you view the world and it can inspire you to create a more fulfilling existence.
Durschlag clearly believes this as well. He understands that the most precious thing in life is time and as he puts it, time on vacation is even more important. So Expedia is working to make the entire vacation experience painless and easy.
They are working to make Expedia.ca a one stop shop for people planning their precious vacations and their goal is to give their clients the best local experience when working with Expedia.
So Where do travel Blogggers fit in? 
The skies the limit.
More and more companies want to humanize their brand and connect with their customers on a more personal level. Travel Bloggers give an alternative to an advertisement or banner ad. We can explain and share our experiences first hand with our readers.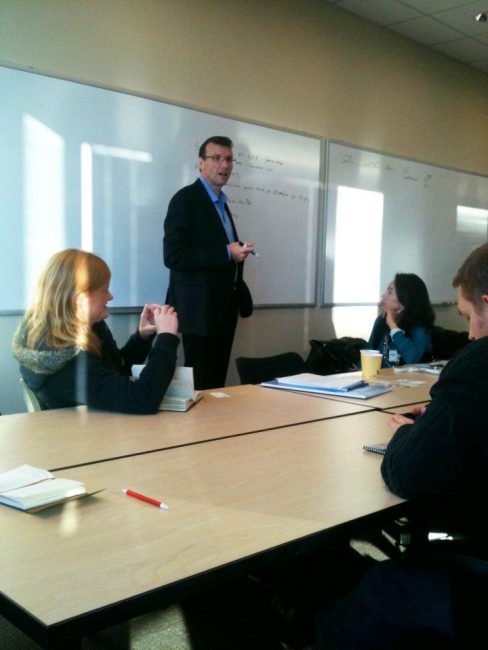 A person like President Scott Durschlag isn't just a rich suit in a high office tower. Through us you get to know the man behind the corporation.  He's a guy that backpacked around the world and once tried to climb Mount Everest on the cheap. We talked to him about his time in Tibet when he hired a couple of Sherpas on the spot to help him climb the world's highest mountain. Did he make it? No way, but he has an awesome story to tell and gained my respect and admiration for giving it a good shot. And I loved that he travelled on a budget. He's a guy that journeyed overland through Africa and has a zest for life and a love for travel. Like all of the Expedia executives we met, he's a regular guy who's easy to talk to. And that's the type of stuff we like to share – The story and the inspiration.
"Travel is Transformational"
People who work at Expedia have a passion for travel and that is exactly the type of company we want to work with. As a matter a fact, Expedia not only encourages their employees to take holidays, they are rewarded when they travel by receiving reimbursements for their leisure travel each year. As Scott Durchslag said, a vacation encourages productivity. It's important.

We were very impressed with their openness and excitement about working with travel bloggers in the future.  As VP Joe Megabow said, "working with bloggers is a proven business plan." Other industries have already done it with great success. It's little risk for Expedia to work with us because the plan is already laid out. Sports, Tech, Entertainment, Fashion….these industries have already embraced the influence of the blogger and we think 2012 will be the year of the travel blogger.
We were honoured to be invited alongside some other really cool travel bloggers and we all got to know each other during a Seattle Seahawks game from a private suite in the NFL's loudest stadium.
It was a whirlwind two days in Seattle, but we had an amazing time and are excited to see what Expedia has in store.
Our trip to Seattle was courtesy of Expedia.com and we wanted to give a shout out to the beautiful boutique hotel that we stayed at, Hotel 1000 right in the heart of downtown.
To see more on Expedia and travel blogging, check out our fellow attendees of Expedia Blogger Day 2011. Here's to an exciting
Airfare Watchdog, Bloomberg Business Week, Chris Around the World, Galavating
GeekWire.com, Johnny Jet, Otts World, Social Media Labs, Stuck at the Airport,
The Traveling Philosopher, Travel Junkie Julia, Travelllll.com, What a Trip
Thanks to Expedia Canada for sponsoring our trip to Seattle to meet our American friends.