Events with Canada's Adventure Couple
Posted September 1st, 2010 by Dave and Deb in category PlanetD Blog
10
2 Back to Back Photography Tours in Rajasthan India!
February 8 – 21, 2011

14 days – expert travel photography tuition
"FOCUS" offers amateur and aspiring photographers a brilliant opportunity to combine the fantastic sights of Rajasthan with expert tuition in travel photography. Above all, it's a holiday, an opportunity to relax – but you can be sure that you'll be leaving with an enviable collection of fantastic shots that will be lasting memories of your trip.
In addition to an expertly managed trip by Wire, we have teamed up withThePlanetD's Dave Bouskill and Debra Corbeil – professional travel photographers and writers who are masters at bringing travel experiences to life through words and pictures. Their work is renowned all over the internet as well as in more traditional media.
"FOCUS" takes you to: Jaipur, Pushkar, Bundi, Chittorgarh, Udaipur, Ranakpur, Rohet, Jaisalmer, Khimsar and Jodhpur.
For more information, costs, details and booking, visit
-
January 27 – February 5, 2011
10 day photography tour with expert tuition
"CLICK" provides amateur and aspiring photographers with a slightly different way of exploring Rajasthan.
Wire has teamed up with theplanetD's Dave Bouskill and Debra Corbeil – professional travel photographers and writers who are masters at bringing travel experiences to life through words and pictures. With their expert guidance, you'll learn how to create fantastic pictures that tell a story and capture the true essence of each situation or character.
The tour focuses a few very special places in Rajasthan, setting a slower pace but with no less exciting opportunities to explore and get to know what life here is really like. Above all, it's a holiday, so there is time set aside for relaxing – but by the end of the trip you'll have an enviable collection of amazing photographs to remind you of your time in Rajasthan.
"CLICK" takes you to: Jodhpur, Rohet, Ranakpur, Kumbhalgarh, Chittorgarh and Udaipur.
For more booking information, costs and details visit:
–
-
October 6, 2010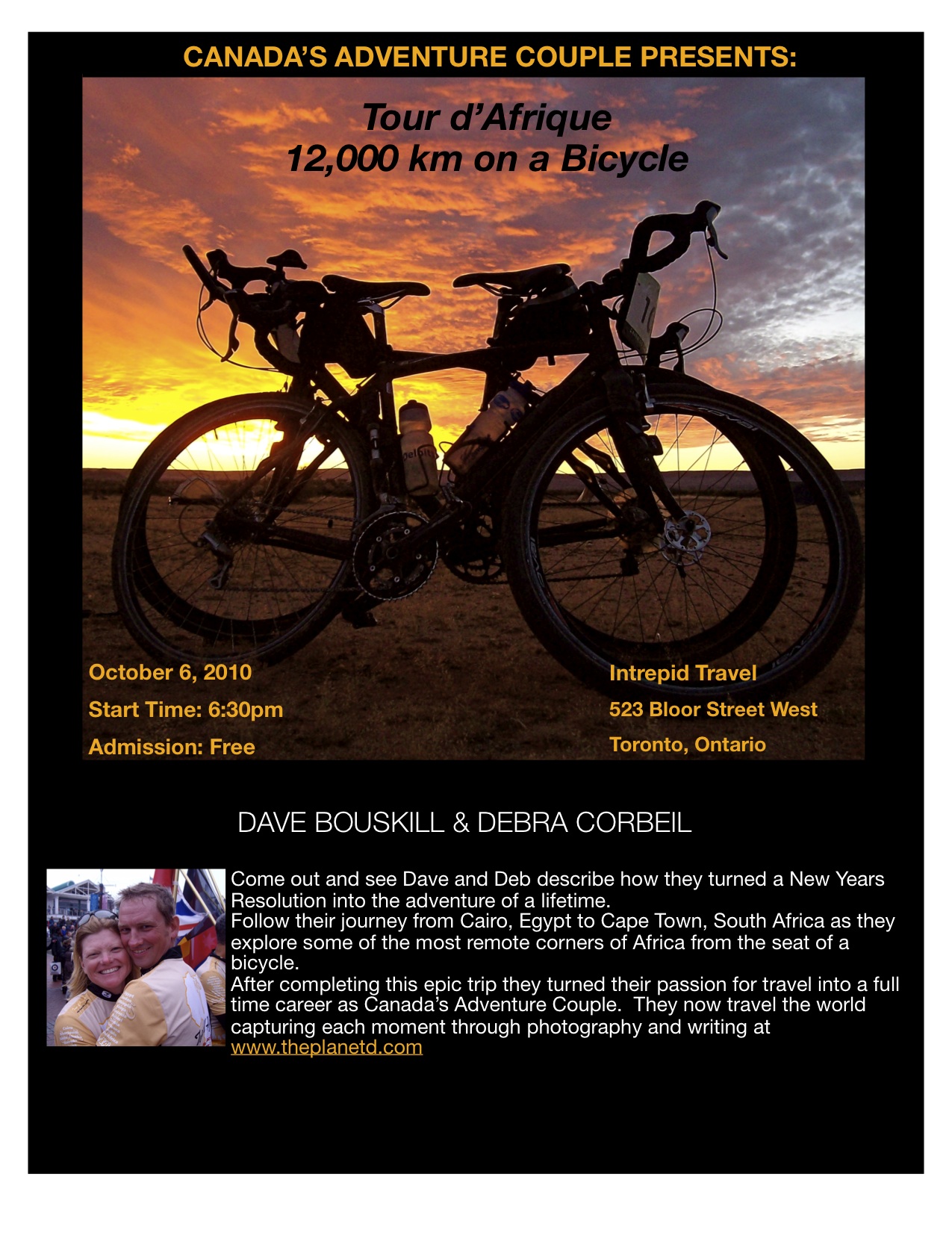 Cycle Africa Media Presentation at Intrepid Tours.
Looking for a fun evening out this fall?
Intrepid Travels hosts free events on Wednesday nights and we will be kicking off the Autumn season with a slide show/media presentation on our cycling trip through Africa.
Have you always wanted to take on an epic journey? Have you made a New Years Resolution only to see it fizzle after a couple of months?
We made a New Years Resolution on the eve of 2007 and turned our dream into a reality. Come on out to see how we made it happen and are now living our dreams.
This 1 hour presentation is filled with incredible images, video and commentary about our time in Africa. We tell you the good, the bad and the ugly about cycling through the most fascinating continent on the planet. Not only that, we pause to climb Mount Kilimanjaro, visitprojects in Malawi and go on a great adventure thrill ride in Zambia.
Don't take our word for it that you will have a great time, check out our testimonials from previous shows.
-
Sept 25, 2010
Intrepid Travel – Multimedia and Slide Show Presentation on Cycling Africa. 
In 2008 we cycled from Cairo to Cape Town in the world's longest bicycle race.  What were we thinking? How did we survive? Will we do another?  We answer these questions and more during our 1hr 15 minute long presentation.  Expect a fun night of videos, photos, jokes and honesty regarding tackling such a difficult adventure. You will get to see the funfilled show that we got all those great testimonials from!
Location: 523 Bloor Street West, Toronto On
Time: 6:30 pm
For more information on their tours around the world check out Intrepid Travel
November 7
While friends and family won't be able to come to this event, we are excited to be taking part in the Wild China Press Tripfrom November 7 to the 18th  We have planned on going to China after Nepal this spring, but circumstances changed and we ended up going to France and Alaska.  We were super happy to have the opportunity to do those trips, but now we are even more excited that we get to continue our travels in Asia right where we left off.  We will be starting an epic year of travelling in Yunnan and Guizhou provinces.
There are some exciting opportunities in the works with photo tours and other destinations before we participate in the Mongol Rally withOttsworld and Midlife Roadtrip next summer. But for now we will tell you that the winter is going to jam packed with fun.
Sept 25, 2010
Photo Tour of ChinaTown/Kensington Market – FREE!!!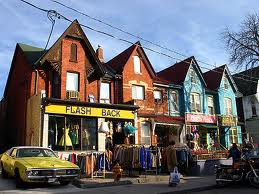 Coming to you from the great people of Intrepid Travel, Dave will be leading a special one off tour through Toronto's most colourful area. Learn his tips and tricks of photography as he shows you how to find the interesting shots and angles. Jason from Urban Adventures and Tour Guys will be along to teach you all about this fascinating neighbourhood and its rich history.  To sign up for this FREE tour, go to the EventBrite page to guarantee your spot! Focus on Toronto, Urban Adventure Photography Tour
Location: Pick up Art Gallery of Ontario (SW corner of McCaul St. and Dundas St. West) Toronto On
Time: 2:00 pm
Sept 8, 2010
Mountain Equipment Co-op Multi-Media Show on Climbing to Mount Everest Base Camp - Free!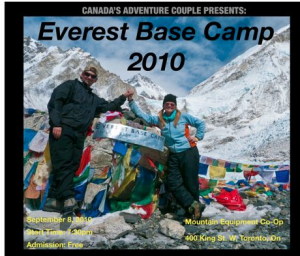 We are putting together the video and slides now and will be spending our long weekend practicing to give you the best multimedia show we can possible do.  No overly long stories that bore the audience to tears. We keep our shows peppy, lighthearted and fun.  Don't take our word for it, check out these testimonials from previous multimedia events. For more information on location and times see our post MEC Slide Show September 8th, Be There!
Location: Mountain Equipment Co-op 400 King Street West Toronto
Time: 7:30 pm
-
Sept 14, 2010
Meet Plan Go - Free! 

It is the event of the year in the travel Community.  Toronto is the only venue for the 13 city North American Event happening simultaneously. Who should attend this event? Anyone who has ever dreamed of extended travel & looking for the inspiration and resources to actually make it happen.  It is so popular that we outgrew our previous venue and have moved. -
Location: The Duke of Westminster Pub on Adelaide, 77 Adelaide Street West. First Canadian Place, Street Entrance West
Time 6:30 pm
To sign up, get directions and find out more got to Meet Plan Go