Christmas is drawing near so it's time for another giveaway! Our favourite part of running this travel blog is having the opportunity to make someone's day. Who doesn't love winning something?
We have a winner! We put all entries onto a spreadsheet giving all who tweeted, and shared a link to a photo an extra entry per tweet and photo share and when we drew a number via a random draw Judy Karwaki's number came up! Congratulations to Judy Karwaki for winning a hat from Yak Apparell. She left a comment below and posted a photo on facebook giving her a bonus entry.
Todays giveaway is a cool hat!
Dave and I love wearing hats. I practically live in hats from October to April. The minute cool weather hits, the hat goes on. When Yak Apparel contacted us to see if we wanted to try a couple out and give one away. We jumped at the chance. One of the saddest moments of all our travels in 2011 was when I lost my sherpa hat in New Zealand. I loved that hat. I bought it in Nepal just before we climbed to Mount Everest Base Camp. It barely left my head from that moment on and when we flew to New Zealand, it kept me toasty warm as we camped our way around the land of the Lord of the Rings.
The day I lost it I felt empty. There was a void for nearly a year. Every time I put on a new hat. They just weren't as cool as my sherpa hat!
Cool Hats by Yak Apparel
And then Yak Apparel came along. As I browsed their website searching for a hat to replace my beloved genuine hand woven Nepalese hat I saw it. It was almost exactly like my Nepal hat only cooler! It had pom poms and everything! We even found another great sherpa hat for Dave too. And now we're living happily ever after with our every so cozy Yak Attack hats.
What we love about Yak Apparal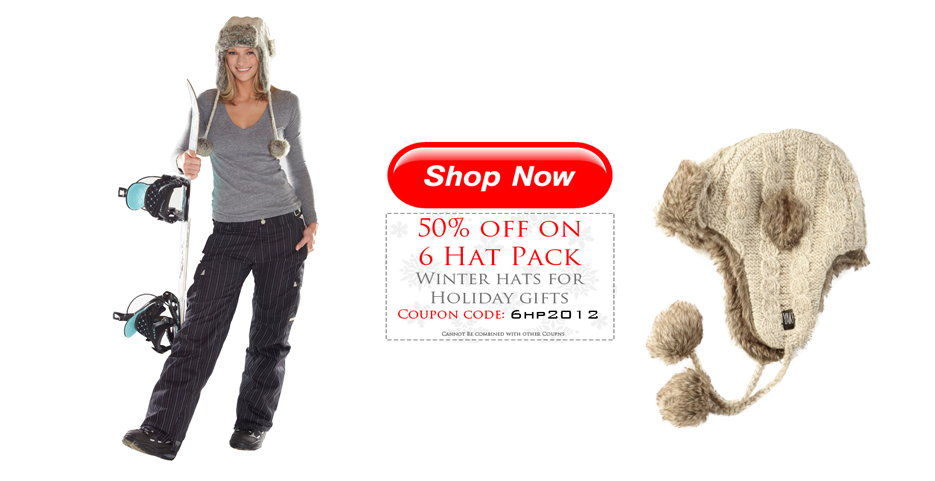 Their hats are fashionable combining the traditional designs worn with Nepal with European and American Fashion trends. They are all handmade in Nepal by local artisans and their mission is to provide sustainable, fair wage employment to the people of Nepal.
Right now they have 60% off a 6 pack hat and Free shipping for orders over $50. It's worth visiting their site even if you don't win a hat today. YakApparel.com
Now On to the Giveaway 
We don't want to have all the holly jolly moments this Christmas season. We want you to have one too.
Just leave a comment below telling us where you'd wear your hat to keep cozy and warm this winter. 
For Bonus points: share a photo of yourself in your favourite hat.  Just make sure to let us know where it is.
There's plenty of ways to share your photo with us…
Leave the link to the photo in our comments so that we can take a look at it
Tweet it and tag @ThePlanetD
Put it up on our Facebook fanpage, it's easy… just visit our page, click on photo/video and attach a photo, we'll be able to see it and you can show off your favourite hat to all our friends and fans!
Put it up on Flickr, Instagram, Tumblr or any of your favourite photo sharing sites and leave the link in the comments below.
Good luck and have fun!
Other winners
We've had a lot of giveaways recently and thought this was a good time to announce them.
Just yesterday we announced our winner for the Expedia Vacation Deprivation contest. It is the greatest feeling to be able to email someone to tell them that they've just won an all inclusive vacation to Punta Cana! Congratulations to Lisa Larson for putting together the winning Pinterest board. Her hard work paid off and now she's heading to the Dominican with Expedia.com!
Roaming Rita won a 16X20 print from our trip to Kenya.
We gave away trips to San Diego, Costa Brava and Aruba. We had the opportunity to give people hotel vouchers, Expedia vouchers, books, rebates and even iPads. It's one of the best feelings that a person can have. I now know why Ellen Degeneres does it all the time. It feels darn good.
We'll be having more giveaways throughout 2013. Stay tuned to ThePlanetD for more great contests and be sure to enter today!