Where am I?
That is the question I've asked myself nearly every morning during this past month.  It has been the busiest travel of our lives.
A week in Fiji was spent changing resorts, doing adventures both morning and night and taking in as much of the main island as possible.  China was just as hectic.  We spent three weeks flying, taking over night trains and private & public transport from Hong Kong, to Yangshuo and Shanghai to Beijing.  Covering thousands of miles and seeing every major site, we explored most of the famous attractions in a very short whirlwind trip.
As I wake up in a different bed each day, sometimes I am sleeping beside Dave, others I am in a small single bed, I am confused.  Am I at my old home in Canada? Is it my childhood house? Or am I back in India? I never know until the grogginess subsides.
Travel is hard on the psyche. That is why it is important to bring a little piece of home with you.
We have our comfort things that come with us wherever we go.  It is our little home in our backpack.  Even though we are on the adventure of a lifetime, we miss our family and friends and most of all we miss having a place to come home to.
–
Here are a the things we have and do to make sure we travel in comfort.
Our computers – They have become our home away from home. I can be sitting in a café in Bangkok or in the basement of my parents house and I feel comfortable as long as my computer is with me.  It is my link to home. I can check emails, the news, facebook and I can even skype with our families.  It feels  like we are in the same room and it makes us miss them just a little less.
iPhone – Sure, we have our computers and we can do almost everything on them. But when we are sitting in a cramped hot bus it is comforting to be able to check our facebook status and see that our friends from home haven't forgotten us. It is also a great way to call home when we are feeling lonely.  Sometimes Skype won't do and we want to be able to chat even if our families are not online. That is where online phone cards come into play.  We don't have to wait for our mom and dad to pop up on skype, we can just give them a call directly to their home phone.
Sarongs – We have been traveling with our same sarongs for a couple of years.  We own dozens and when we go home, we change them out for fresh and new ones.  When we lay them on our beds in a strange hotel, it warms up the room and makes us feel like this is our home even if only for a short time.  We snuggle up to them when we're cool and lay on top of them when we're hot.  Sarongs are the most comfortable thing to sleep on and wear.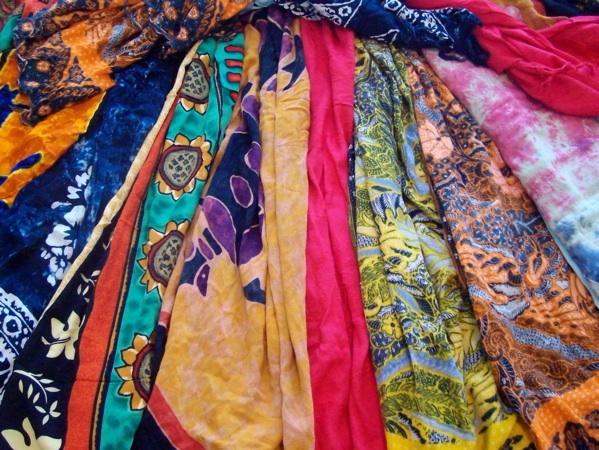 Journal – I am still old school and love to write in my journal.  There is nothing more comforting than seeking out a coffee shop to sit down and watch the world go by while writing in my journal.  It is the same feeling in Shanghai as it is downtown Toronto.
Integrating with Society – People are the same wherever you go.  No matter which race, religion, caste or creed, everyone has someone they love, they have families and friends. They smile the same, they laugh the same, they hug the same and they play the same.  The ysit quietly and read a book the same in every part of the world and they are willing to let you into their lives no matter where you go.  When we surround ourselves with other people, we feel a little more at home and a little more a part of the community.  A shared smile or quick exchange is all it takes to make us feel at home.
iPod – Dave can't live without his music.  When we are traveling, he flips on his music and starts air drumming away without a care in the world.  I look over at him and smile. He could be at our loft in Toronto or camping in the middle of the desert. It doesn't matter where we are, he will tap his feet just like he is at home in his boxer shorts.
Good First Aid Kit – Medical facilities are different everywhere in the world. If something doesn't feel right, we just can't call up our doctor and make an appointment.  We have to take care of ourselves.  Knowing that we have the necessary items to take care of any minor problem gives us a sense of comfort.  Dave had a case of Athletes foot in China and luckily we had the right cream to fix it straight up.  We've already had a few ailments and we have only been gone 6 weeks, but we have had something for every situation in our kit so far.
Wine Opener – It is no secret, we love our wine. While we don't get to drink much of it when we are in Countries in Asia, we still like to splurge every once in a while when we get to a city.  Having our wine opener along makes us feel just a little more civilized.  When we can sit and have a glass of wine at night while sitting on a veranda of a bungalow, we feel just a little closer to home.
Each Other – Dave is my home and he will agree that I am his.  No matter where I am on earth, I am home as long as I am with Dave.  I couldn't travel without him.  If I were to go somewhere without Dave there would be a giant void.  We are lucky to have the same goals and dreams. We are lucky that both of us have a passion for travel and are willing to give up a normal life to see the world.
But with all the points above, it definitely helps to have our comfort items to make things a lot easier when we travel even if we have each other.