There are so many things to do in New Zealand. Did you know it is known as the adventure capital of the world? New Zealand is a dream destination packing a huge punch into a small space with astounding scenery, cosmopolitan cities, adrenaline pumping adventures, and a jaw dropping coastline.
Unique Things to do in New Zealand
It can be overwhelming deciding on what things to do in New Zealand, especially if you have limited time. We've rounded up the more unique and exciting things to do in New Zealand beyond the usual bungy jumps and skydives. (Although they make the list too, because you can't not give them a go!)
New Zealand is compact and easy to get around by renting your own campervan, joining a hop-on-hop-off tour or better yet, flying locally to the 25 destinations offered by Air New Zealand. In short New Zealand has it all! Plus with this list in your hand, you will be sure to have a trip of a lifetime.
1 – Fly Your Own Stunt Plane Abel Tasman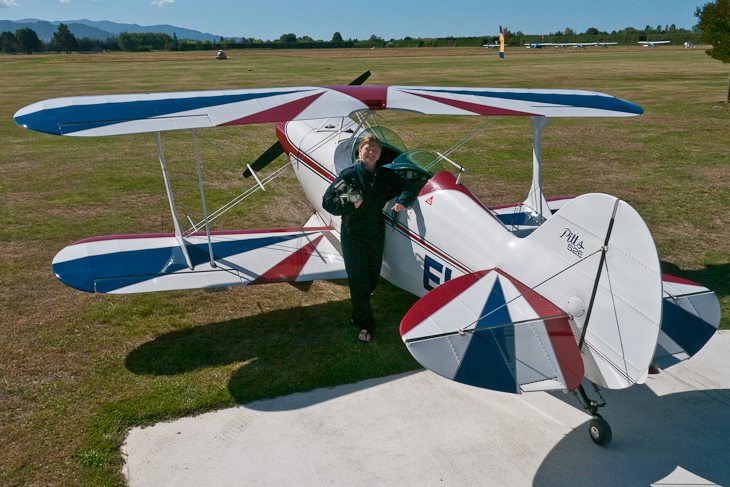 The most original and exciting adventure you will ever do in your life is to fly your own stunt plane at Ufly Extreme. Imagine taking full control of the plane you flip upside down and all around in mid air as pilot Vincent talks you through the flight from the cockpit behind. It's definitely not for the faint of heart, but is definitely the most unique thing we did in New Zealand or anywhere for that matter.
2 – Bungy Jump in Queenstown
Bungy jumping was invented by AJ Hackett in Queenstown, and if you are visiting here, you must make sure you jump off a platform at one of the sites. A bungy jump is the number 1 activity of things to do in New Zealand for many people, if you don't do it, you'll be sorry! There are many to choose from, from the original bridge jump to the terrifying Nevis Bungy located 134 metre over the middle of a gorge!
3 – SkyDive Abel Tasman
When skydiving in Abel Tasman you have the option to jump from 16,500 feet. Skydive Abel Tasman is the only place in New Zealand that you can jump from so high. There are many places to jump in New Zealand, but Abel Tasman is special  as you can see both the North and South Island when you jump.
4 – Trek the Fox Glacier
Who doesn't want to walk on a glacier? The Fox Glacier is probably one of the easiest and quickest glacier walks you'll ever be able to do. We were suited up with thick woolly socks and boots suitable for crampons. They gave us a rain jacket and waterproof pants all we had to do was show up. Located at a low elevation, it's suitable for anyone that's relatively fit.
If you're coming from farther south, you can book a one way transfer through Get Your Guide from Queenstown to Fox Glacier or from Wanaka to Fox Glacier.
5 – Swim with Dolphins, The Bay of Islands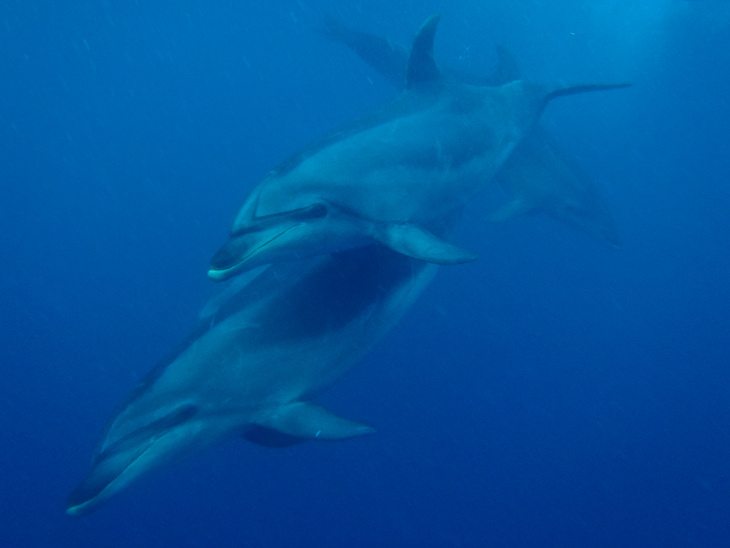 Swimming with dolphins is one of the most magical moments you will ever have in your life. In The Bay of Islands, we had the opportunity to swim with bottlenose dolphins. The waters are warmer on the North Island so you don't have to wear a wetsuit here!
Another great way to experience the Bay of Islands is by taking a boat tour. Check out this sailing ship excursion from Auckland through Get Your Guide where you can help the crew hoist the sails.
Recommended Travel Gear for New Zealand
6 – Cruise Milford Sound
In 2008 it was named the World's Top Travel Destination and Rudyard Kipling called it the 8th Wonder of the World. Milford Sound is the country's most famous tourist destination. A cruise through Milford Sound is a must when visiting the country. Its breathtaking fiords showcase some of the highest sea cliffs in the world.
7 – Hike the Tongariro Crossing 

The Tongariro Crossing is considered one of the best day hikes in the entire world. It's an absolutely beautiful trek taking you through huge valleys, up mountain slopes and to incredible volcanic lakes. Peter Jackson chose this location to be the dreaded Mount Doom in the Lord of the Rings.
8 – Whitewater Raft Class 5 Rapid
We've done a lot of whitewater rafting around the world, but the class five rapids just two hours from Christchurch were the thrill of a lifetime. After facing the massive water, you can jump into some smaller rapids yourself from 3 – 5 meter high ledges. That really gets your blood pumping.
More Fun Things to do in New Zealand
9 – Go Whale Watching Kaikoura 
When whale watching in Kaikoura, the chances of spotting whales are so that if you don't see any, they will refund 80% of your money. We not only saw humpback whales, we saw killer whales too!
If you're staying in Auckland, check out this Get Your Guide dolphin and whale watching eco tour.
10 – Go Sailing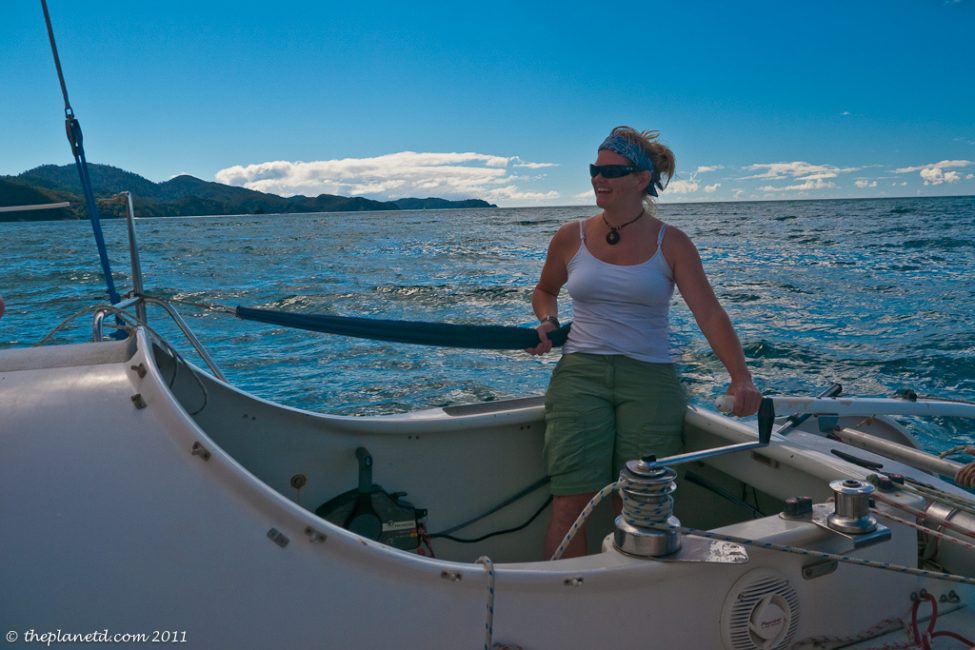 One cannot appreciate the beauty of a coastline until you see it from afar. Taking a sailing trip is a fun and relaxing way to spend the day. We sailed along the coast of Abel Tasman National Park exploring secluded beaches and witnessing unique rock formations. But most importantly, we had the opportunity to captain the boat!
Alternatively, try a cruise and hiking day trip in Abel Tasman National Park.
11 – See the Glow Worms
Glowworms are small insects that emit bioluminescent. They can be found in many caves in New Zealand and you must go to see them when you are there. Glowworms never leave the cave and they spend their lives feeding on insects that make their way into the deep caverns. One glowworm hangs hundreds of threads to catch their prey using their lights attract the bugs where they are trapped in their gooey string to wait for a slow death.
Read more at our Visit to the Glowworm Caves New Zealand or check out this tour of the Waitomo Caves that includes tubing through the caves.
12 – Moeraki Boulders

The Moeraki Boulders are a natural phenomenon that lay along a stretch of the Koekohe Beach on the Otago coast of New Zealand. I didn't even know they existed, but seriously, they are one of the best things to do in New Zealand. They are located between Moeraki and Hampden on the South Island. Scientists claim that the Moeraki boulders were formed millions of years ago due to muddy sediments slowly forming the boulders through erosion, wave action and landslide. They are a fascinating site to see.
13 – Tamaki Maori Village in Rotorua

The Polynesians settled here in the 13th century and an excellent way to learn about their history is to visit the Tamaki Maori Village in Rotorua where you will be welcomed by the Powhiri, a formal welcoming ceremony followed by a performance of warrior dances and songs.
 We named New Zealand as one of the top spots for the Best Road Trips in the world, see where else made the cut!
14 – Go Zorbing in Roturura

New Zealand is known for their zany adventures and when there you must try zorbing in Rotorua. Rotorua is an excellent stop for hot springs as well, so after a day of adventures, you can warm up in the warm volcanic sulfur waters.
15 – Wai-O-Tapu
Wai-O-Tapu is a Thermal Wonderland. Walk along safe and defined tracks through this incredible geothermal pools and volcanic and acidic lakes. Witness bubbling mud, steaming ground and volcanic craters at this natural attraction that has bee called One of the 20 Most Surreal Places in the World.
A good option is to book a 2 day tour that combines Wai-O-Tapu, Maori culture, and glowworm caves.
Movies shot in New Zealand
There are so many things to do in New Zealand, you could spend a month exploring the two islands and still not see it all. We know! We spent 6 weeks there. Part of it as a Road Trip, and the other with The Flying Kiwi. But with local flights to 25 cities getting you quickly to your destination, and now that you are armed with these 15 ideas of the greatest adventures in New Zealand, you'll be able to easily create your own custom itinerary.